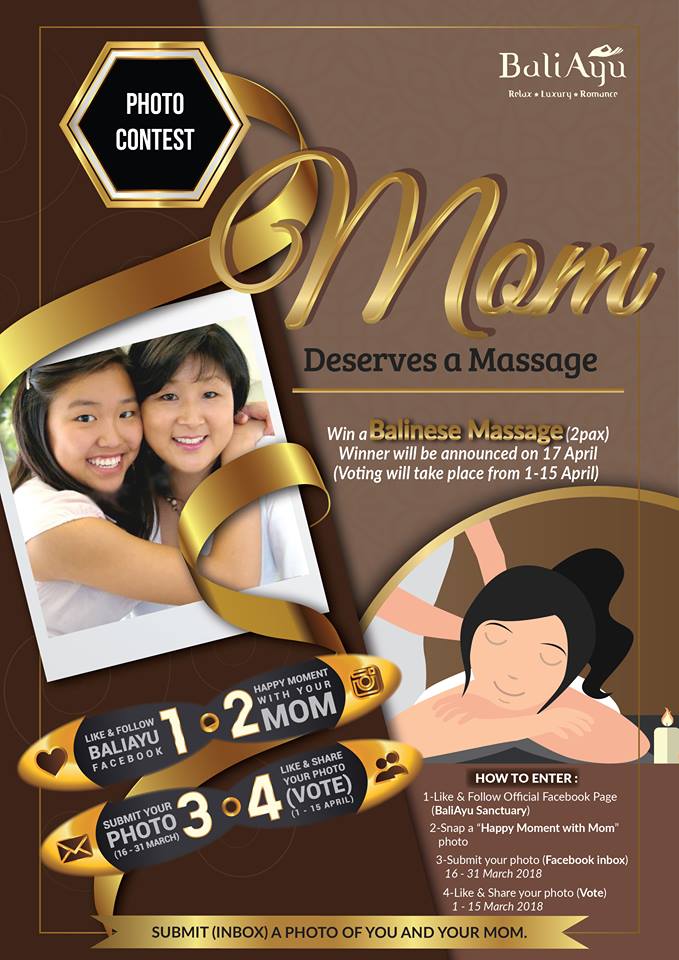 MOM | Deserves a Massage Photo Contest
Contest period: 16 March – 17 April 2018
Moms do so much not only for their families but also for their friends, co-workers, neighbors, and pets.  With so many roles to play in our lives, sometimes mom it is easy to get caught up in doing everything for everyone else and she forgets to relax.
Let her know that you remember how important she is. Just snap submit ( by Facebook inbox ) your most "happy moment with mom" photo and win a great Balinese Massage (worth RM399) !
Good luck and Happy joining!
IMPORTANT DATES
Submission of Entries: 16 – 31 March 2018
Judging: 1 – 15 April 2018
Prize Giving: 17 April 2018
HOW TO ENTER :
Like & follow our Official Facebook Page (BaliAyu Spa Sanctuary)
Snap a "happy moment with mom" photo
Submit your photo (Facebook inbox) 16 – 31 March 2018
Like and share your photo (Vote) 1-15 April 2018
JUDGING CRITERIA
The winner of the "MOM-Deserves a Massage" will be selected based on the number of 'Likes' it receives from BaliAyu Spa Sanctuary Facebook Fans.
Fans can start voting for their favorite photos by clicking 'Like' on the photo between 1 April  and 15 April 2018. The more 'Likes' you get, the better your chance to win great prizes by BaliAyu Spa Sanctuary!
In the event of two winners with the same number of 'Likes', there will be a tie-breaker. The winner will be selected based on the most interesting caption (that will be judged internally).
PHOTO FORMAT
Please use the largest possible resolution settings on your camera.
NOTIFICATION OF CONTEST WINNERS
BaliAyu Spa Sanctuary will announce the winner on 17 April 2018 on the BaliAyu Spa Sanctuary Facebook Page and on the  website (www.spamalaysia.com.my) by publishing the winning photos, along with the captions.
Winners will also be notified by facebook messenger. BaliAyu Spa Sanctuary  shall not be responsible or be liable if any winners are uncountable.
IMPORTANT
BaliAyu Spa Sanctuary reserves the right to modify the contest prizes and its rules and regulations as and when necessary, without prior notice.
The photographer holds the copyright to the photos submitted, but BaliAyu Spa Sanctuary retains the unlimited right to use the submitted photos for public information purposes.
BaliAyu Spa Sanctuary will only use photos for non-commercial purposes. The photographer will be credited.
The prize is not transferable, and no cash alternative prizes will be offered.
Trackbacks and pingbacks
No trackback or pingback available for this article.
This site uses Akismet to reduce spam. Learn how your comment data is processed.
Recent Posts
Recent Comments
Categories