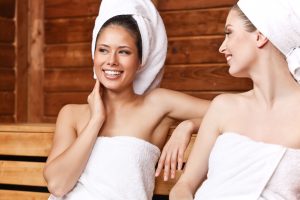 The objective of any infrared sauna is to cause the body to sweat over a long period of time (30+ minutes)–carrying with it plenty of toxins–due to a raised core body temperature. To make sure the body's temperature is able to rise without the user becoming too uncomfortable, it is vital that the body be heated with an optimal wavelength of light. Far infrared is able to heat the body evenly and to maintain the body comfortably at that higher temperature.
THE RISKS OF UNCHECKED TOXINS
Infrared saunas offer a uniquely efficient solution to detoxification that isn't easily achievable in any other way. The problem with having toxins in your body is that they interact with enzymes and confuse cellular receptors, which INHIBITS NORMAL CELL FUNCTION. When cells are confused, their electrical receptivity becomes out of synch, throwing the human body into homeostasis.
Disrupted homeostasis is dangerous for cells because all cells have jobs to perform, and being unbalanced make these jobs more difficult. When your cells aren't performing correctly you can become fatigued, depressed, or unfocused. Such a state can also weaken your immune system.
BENEFITS
Weight loss
Better sleep
Clearer Skin
Mental and emotional clarity
Reduced joint pain, headaches, and digestive disorders.
Trackbacks and pingbacks
No trackback or pingback available for this article.
This site uses Akismet to reduce spam. Learn how your comment data is processed.